Laminated bathroom wall panels have been around for years and have always been a popular choice in commercial settings. Their popularity grew as they offered a solution to properties that were having problems with their tiles.
Although tiles look great they have one major drawback: grout.
However carefully it is applied and however well ventilated the room is, grout has a terrible habit of turning mouldy. This is because it allows a small amount of moisture to be retained on its surface. Take away the moisture and mould will struggle to take hold.
So an alternative to tiles was needed. And waterproof panels were the solution.
Initially laminate panels were the only option. But their rise in popularity has seen manufacturers move into other materials as well. PVC, acrylic and  ABS have all been used for lining walls. PVC has been the biggest success with bathroom cladding proving to be a popular choice with householders.
What Are Laminated Panels?
Laminated panels are made in layers. The middle layer provides strength and is made from a wood based material. Plywood, MDF and HDF are all regularly used for making the core. The finishes surface is made from a melamine material. This is formed by coating a layers of paper with a hard resin. The top layer of paper is printed with the visible pattern of the panel.
A second sheet of laminate is bonded to the reverse side to stabilise the panel and prevent it from warping. There are two versions of this type of panel.
One version of these panels is available with a tongue and grooved edge. This enables them to be joined together to cover larger walls without the need for an obtrusive joining strip. The joint is sealed during installation to prevent water getting into the core
The second type has a square edge, which is fine if one sheet covers the area you need. If not a metal joining strip is used. Each panel then slots into this strip.
Using Just The Surface Layer
It is possible to just use the melamine surface layer to cover a wall. A well know brand of these sheets is Formica. The downside to using the sheets is that the walls need to be very flat. The sheets are flexible and will follow any curves or protrusions on the wall. They require an extremely flat surface in order to have any strength once fitted. They also need very careful handling as the thin sheets can flex and crack.
The reason laminate panels came into existence was to make installation easier. Manufacturers bonded the laminate sheet to a stiff MDF or plywood core. This gave the panel structural rigidity and was more forgiving when it came to installation.
Which Are Best – Laminated Panels or PVC Panels?
The answer depends on the application.
In commercial properties the laminated bathroom wall panels are more durable. The surface is much harder and is less susceptible to damage. But in most domestic bathrooms this is not really an issue.
In domestic situations PVC panels are a perfect choice. They are cheap, easy to install and last for years.
If you are refurbishing a shower without removing the cubicle then the smaller, PVC panels are a whole lot easier to manoeuvre in to place.
Laminate wall panels expand and contract a lot more than PVC panels so expansion gaps need to be included at the installation stage to avoid problems. With PVC panels  this problem is non-existent.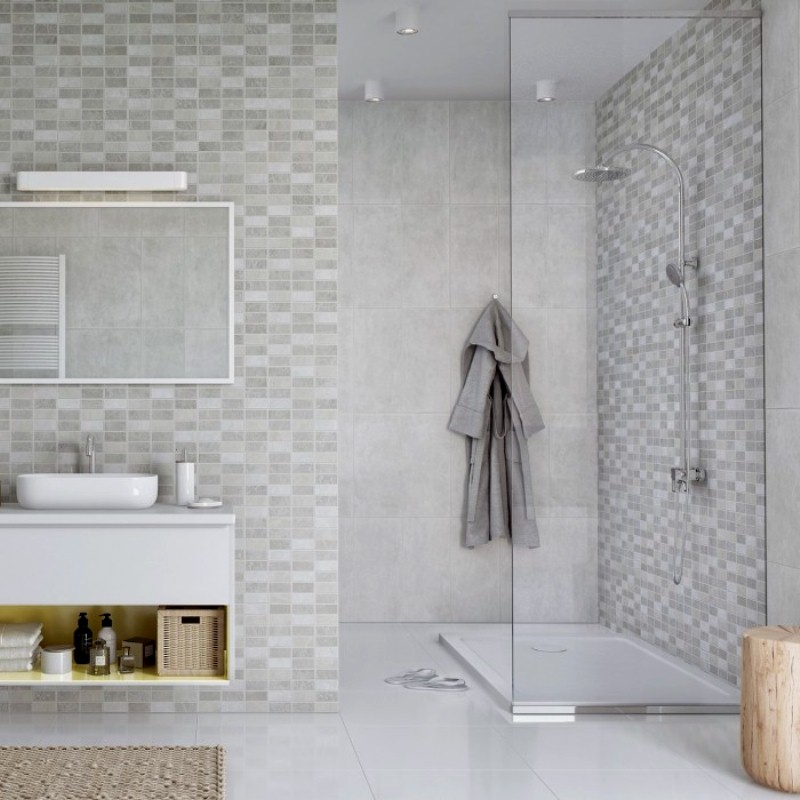 New Developments
A recent development of the laminated panel involves utilising a waterproof foam core rather than a wood based core. This results in a lighter panel that is slightly flexible making manoeuvring the panel into restricted areas a little easier. Foam core panels are not available with a tongue and groove edge so they need to be joined with a trim.
Both foam core and wooden core panel are very large so they are more tricky to fit than the smaller PVC panels. If you are installing a complete new cubicle they are perfect but if you are trying to fit them into an existing unit then smaller PVC panels are the better choice.