Bathroom wall panels will totally transform any room with their stunning looks and easy-to-live-with, maintenance-free qualities.
There is a huge range of different designs, colours and sizes with something to suit every taste and budget. Bathroom wall panels really are the perfect alternative to tiles.
These examples demonstrate just how attractive modern panels can be. Smart, classy and totally transformative they would be a welcome addition to any luxury bathroom design. The three examples shown above are available online from our affiliate IPSL – click the images or the button below to find out more:
As people's lives have become busier there has been less and less time for domestic maintenance. People have started to realise that tiles can be a bit of a pain. The grout used to fill the gap between the tiles is very prone to discolouring and looking grubby. It can even develop mould if the grout fails completely.
So a more modern alternative to tiles has long been a goal. And that is where bathroom wall panels come in.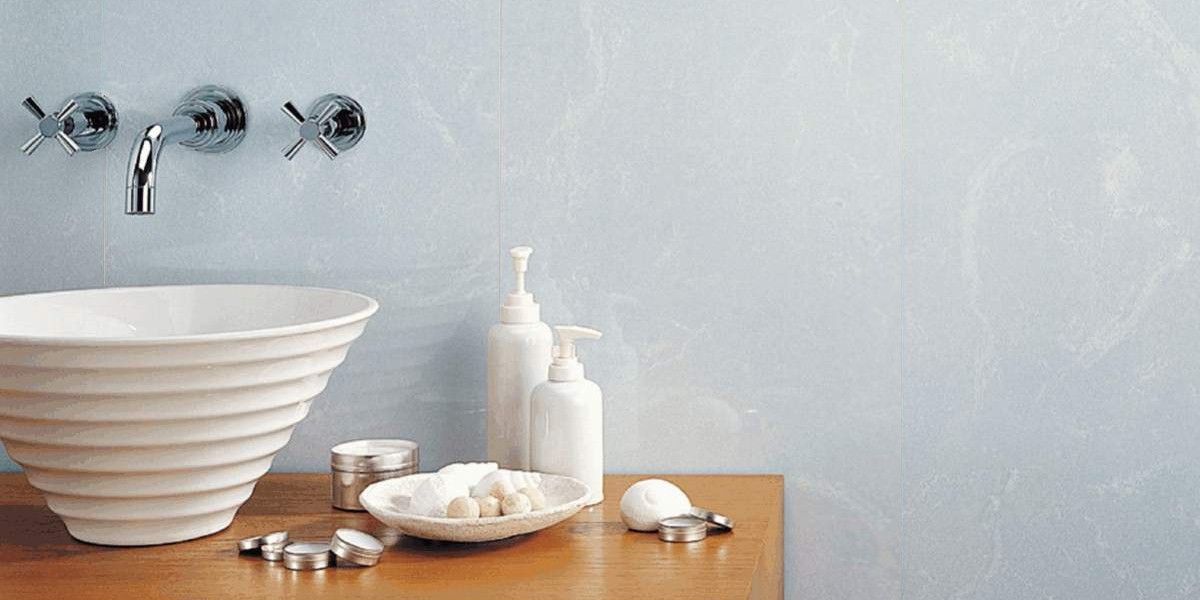 Bathroom Wall Panels Are Not A New Idea
That's right, bathroom wall panels are not a new idea. This form of wall decoration has been around for years.  Panels are a tried and tested alternative to tiles.
Commercial organisations have used them extensively. They are certainly up to the task. This versatile wall covering has been used extensively in hotels, guest houses, leisure centres, student accommodation,
Initially, they were made from a laminate and plywood composite material. But then PVC cladding became available and that is when it really took off.
PVC panels are much easier to cut and work with. They are also lighter and, most importantly, cheaper.  At the start, designs were pretty limited. But as they have grown in popularity so have the choices.
Here are some examples:
Tile Effect Wall Panels
Tiles have been around for thousands of years. And people have grown used to their appearance. Many people are reluctant to switch from tiles because they like the look of them so much.
Luckily, the panel manufacturers realised this. They have been making panels that have a tile effect printed on them for many years now.
They look exactly like tiles as you can see in the above photos. But they have none of the drawbacks.  There are large tile formats as well as mosaic designs. So there should be something available that will give you the look that you want.
Click this button to find out more –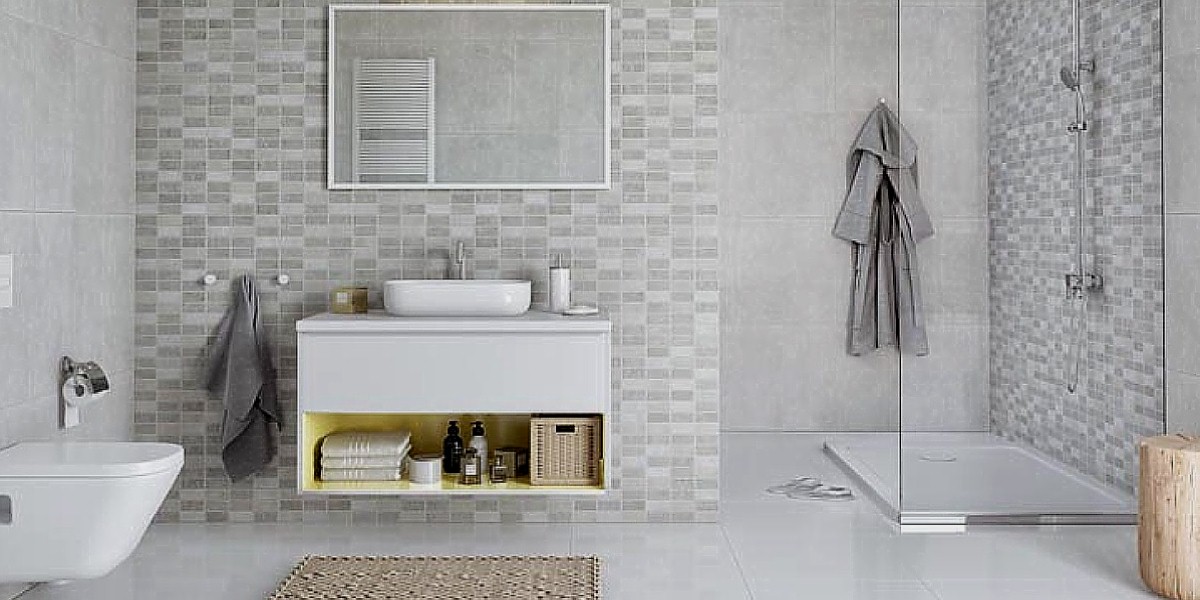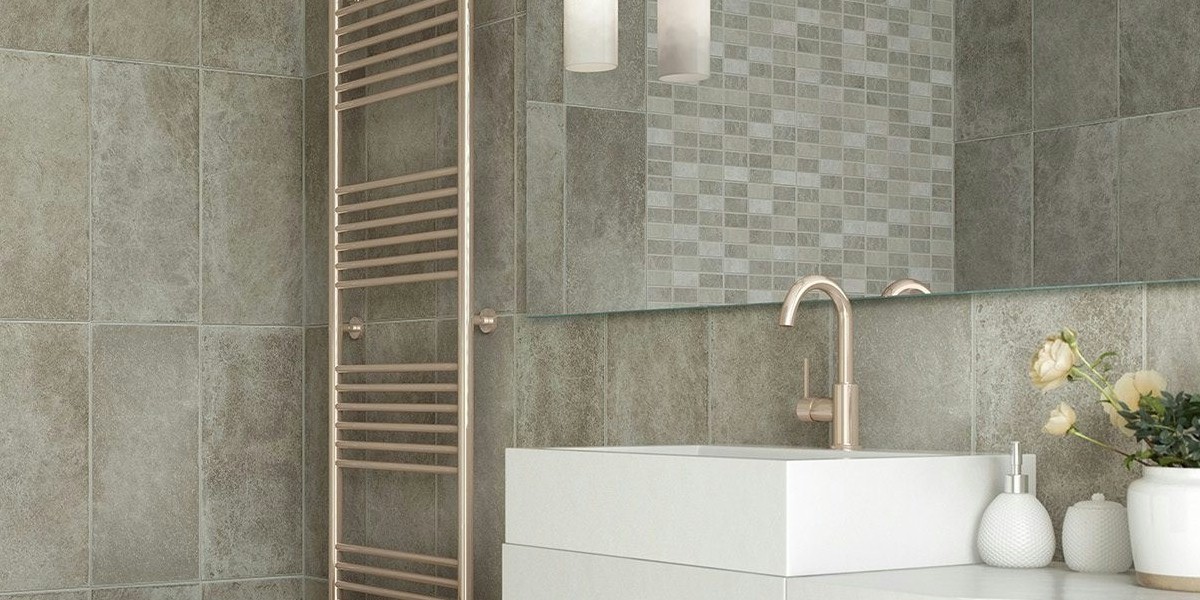 100% Waterproof
All bathroom wall panels are 100% waterproof. Some materials are totally unaffected by water – PVC for example. Other systems that are based on a wooden core, can warp or swell if water gets behind the waterproof surface. If this happens it will not be a problem with the material itself. This will be down to faulty installation. No water should ever come into contact with the core material.
One other great advantage of wall panels is that they can be fitted over existing tiles. This causes a lot less disruption and mess than re-tiling the bathroom.
When re-tiling you need to hack off the old tiles, re-plaster the wall, stick to new tiles up and then grout and polish the tiles. Each of these steps creates dust and mess. They also are slow processes. And any work that takes time costs more money.
Panelling does away with most of these steps. If you fit the panels over the existing tiles it does away with all of them.
no grout, no mould, no maintenance
Bathroom Wall Panel Quality
Make sure your supplier has a reputation for quality. There are more and more manufacturers popping up from the Far East and the quality of their offerings can vary. Most are fine but there are some lower-grade products on offer too so choose wisely.
Check that the panels have a Fire Rating. This will at least give you some reassurance that the manufacturer takes its quality control seriously.
Try and get a hold of samples. This way you will be able to see the quality of the product at close hand. You can also compare the style and composition of different panels from different manufacturers.
With PVC panels some manufacturers use a stiff compound while others will add plasticiser to make a softer material. The stiff compound feels more solid but can be more fragile. Softer compounds are more flexible but will also tend to be less fragile.
If you are planning o bending your PVC panels it is best to opt for the softer style material – see our article on bending panels for more information.
Are Panels Better Than Tiles?
We would say "Yes".
Panels have some shortcomings but these are more than compensated for by all of their advantages. Most people want an easy life so they do not want to install a product that will cause problems and hassle.
Unfortunately, tiles come with major long term headaches when it comes to keeping the grout looking pristine. So there are many reasons to switch to panels :
No Grout – this is a HUGE bonus. Tiles are great but grout is a nightmare.
Easy to Fit – the panels will fly up over any existing wall covering
No Condensation – they are warm to the touch so condensation does not form on them
Easy To Clean – no scrubbing, no bleaching, just a smooth, wipe-over surface
Are The Panels Cheaper Than Tiles?
Yes – in most cases.
Some tiles are very expensive while some are very cheap therefore it is impossible to say with complete certainty.
The square metre price of panels is similar to or less than that of tiles. However, the big saving comes from little or no preparation and hugely reduced installation times associated with panelling.
Tiles need to be installed on one day, grouted on another day and polished on yet another day. And that's before you consider any preparation work. Panels can be up and finished in one go.
But panels are not designed to be cheaper than tiles. They are designed to be better than tiles. The cost saving is an additional bonus.
Which Design Is Best For Your Bathroom?
Wall panels come in a variety of designs, colours, materials and sizes.  This is great if you know what you want.  But it can prove a little daunting if you are not sure what would be best for your bathroom. They all essentially do the same job.
So a lot of the choices will just be down to personal preference. But sometimes there are other factors that need to be taken into account.
The colour, design, material and size of the panels all need to be considered. Luckily we have more information on each of these topics in detail. See the following pages: