Bathroom cladding is a type waterproof wall panel. It is the best alternative to tiles.
It looks amazing and continues to look good for years and years as it requires zero maintenance. Cladding is extremely easy to fit. And it can even be installed over existing tiles. A smooth, wipe over surface means it is easy to keep clean. Its hollow construction helps in the battle against condensation.
Why Choose Bathroom Cladding?
This product has grown massively in popularity over the last number of years and there are a whole load of reasons why – here are just a few:
No Grout – so nothing to scrub or bleach
No Mould – mould cannot grow on our panels
Zero Maintenance – you can forget about them once they installed
Easy to Fit – they can installed over most surfaces including some problematic ones
It Looks Amazing – and continues to do so for years to come
Totally Waterproof – so perfect for bathrooms, showers, cloakrooms, kitchens and utility rooms
100% Recyclable – if you ever want to remove or swap them over then the panels can be recycled easily
Cost Effective – bathroom cladding is quick to install and requires no preparation cutting down on costs
The Benefits For You
Let's look at the many benefits of cladding in a little more detail.
No Grout
If there is one aspect of this system that sells it more than any other it is the fact that it does not use grout.
Tiles are great, but grout is a right pain because it harbours mould. And is a nightmare to keep clean. There are a whole host of products on the market that try to compensate for its shortcomings. Fitting cladding means you will never have to worry about this again.
Cleaning
Cleaning is simplicity itself. Because there is no grout you are left with a smooth wipe over surface.
All that is usually required is that they are wiped over with a soft, damp cloth. Standard household bathroom cleaning sprays can also be used as long as they contain no abrasives or bleach.
Fit And Forget
This is what you want from products in your bathroom and cladding is no exception. Unlike wood based systems they do not warp, or move with expansion and contraction which causes joints to creep apart over time.
Cladding Looks Amazing
These days there are some really beautiful designs. There is cladding that emulates both tiles and mosaics. Light coloured patterns are ideal for use in small bathrooms. Or you can choose darker colours for a strong visual impact.
Plain white panels are popular with customers looking for a blank canvas approach. We would recommend adding plenty of other strong colours into the room if embarking down this route .
100% Waterproof
Cladding is totally waterproof so it is bathrooms, shower rooms and kitchens that benefit the most. There are so many people that have problems with tiles in their showers. In the worst cases they can cause leaks. Bathroom cladding provides a permanent, waterproof finish once installed (properly!)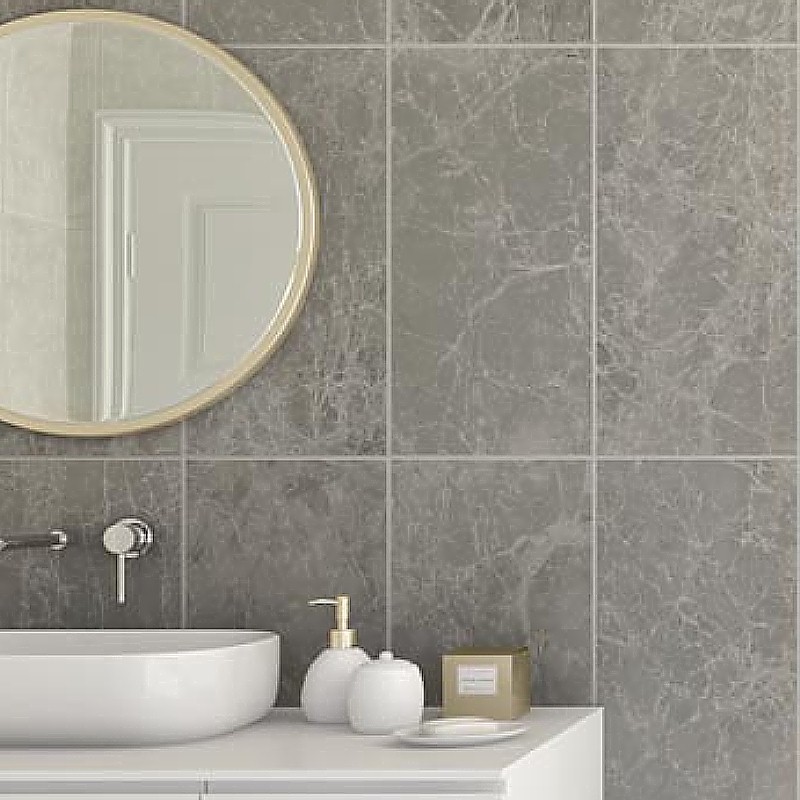 Recycling
Cladding is totally recyclable – unlike tiles. Not only that, it can even be re-used elsewhere.
If you fitted cladding using using screws or staples then it can be taken down complete and fitted somewhere else. If the cladding was installed using adhesive it can still be removed whole if you are careful.
Value For Money
Price wise, the panels work out a lot cheaper than many other options, especially when you factor in the longevity of the product and the speed of installation.
The cladding is made from PVC, usually with a patterned vinyl or printed finish. This provides a maintenance-free covering for bathroom walls. Each panel can be used to "clad" the wall hence the term bathroom cladding.
The panelling can be used in showers as well as bathrooms so you might sometimes see it referred to as shower cladding. The panels can be used on the ceiling as well as the walls although some look better than others in this role as ceiling cladding.
Bathroom Makeovers Using Cladding
Sometimes a bathroom needs a bit of a makeover. Cladding is ideal in this situation.
Bathroom suites tend to last for years without much deterioration. So you might want to freshen up the room by redecorating. You then need to decide how far you want to go with your makeover.
The easiest option will be to keep your existing suite and just change the wall decoration. You can do this easily with cladding.
Keep the bath in place. But remove and replace the basin & toilet so you can panel behind them. You can even panel over your existing tile. So the whole process is very straightforward. A minimum of fuss and a minimum disruption.
You could take things a step further and maybe fit some new taps. This can usually be done while the bath is in-situ but can be a bit fiddly. The basin taps are much easier as you will be taking the basin off the wall during the panelling process.
The next option could be changing the flooring. There are different options here including a a PVC based system that is similar in concept to bathroom cladding. See our guide to bathroom flooring for more information.
Ceilings can also be included in your makeover. There is white cladding available that is perfect for use on bathroom ceilings.
Need More Information?
Our video will help if you are unfamiliar with this product and want to know more.
If you are harbouring any doubts, we should point out that this is not a new product. It is tried and tested and has been on the market for over 30 years.
The video shows how the cladding is made, how it fits together and the results that can be achieved – bathroom cladding explained