Time is money, as the saying goes. So in order to maximise our productive time we have to try and limit the time spent on unnecessary tasks. Trying (and failing) to keep the grout clean in the bathroom falls into this category. It is one of the reasons why so many people are fitting shower panels instead of tiles.
But there are a number of other benefits too to this modern alternative to tiles. We have an article here that lists their many plus points.
But there are also a lot of questions about shower panels. This is because they are a new idea for most people – although they have been available for years and years.
Let's have a look at a few of them.
Are Shower Panels A Good Idea?
Yes. Most definitely.
Tiles are great in showers but grout can be a real nightmare. The huge bonus of shower panels is that they do not use any grout at all. So there is no scrubbing. no bleaching, no maintenance.
So even if you ignore the other remarkable qualities they are worth considering for this fact alone.
The amount of homeowners who are switching over to panels is growing all the time. But they are also hugely popular with landlords, hotel owners, student accommodation blocks, leisure centres and a whole host of other commercial users.
Are Shower Panels More Expensive Than Tiles?
No. Or yes. Well, it depends!
It depends on which tiles you are comparing them with. It also depends on which panels you choose for the comparison. We were able to find tiles that cost less than £10m² at the time of writing. There were also tiles that cost ten times that amount.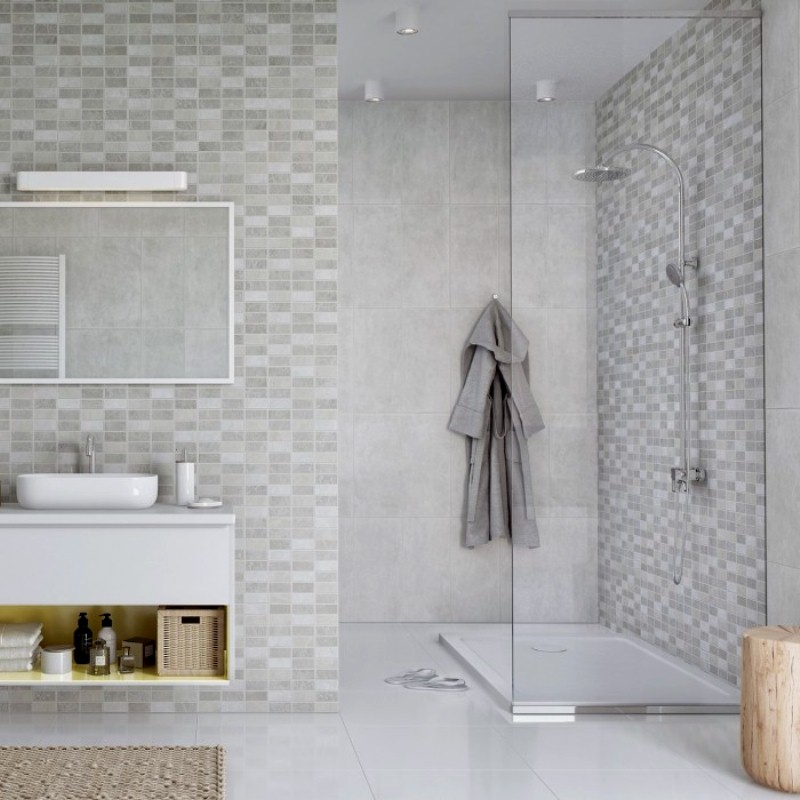 The cheapest shower panels can also be as little as £10m². Bathroom cladding can be used as shower panels and these would be the cheapest way of achieving a waterproof wall covering. They do exactly the same job as larger, more expensive shower panels. They are not quite as robust as laminate panels but this is not really an issue in a domestic setting.
The next cheapest option would be large PVC shower panels. These are made from a heavier gauge plastic but are still a relatively cheap option.
Laminate panels are more expensive. They have a ply or MDF core and a laminate surface front and back. Prices tend to vary but they would usually cost around twice the price of their PVC equivalent.
So making a decision on whether to choose shower panels instead of tiles on the basis of cost is a relative one rather than an absolute one.
Can You Use Shower Panels For The Whole Bathroom?
Yep.
The simple fact is this: the more panels that you fit, the less maintenance you will have in the long run.
So you could just fit the panels inside the shower. But other areas in the bathroom will then be subject to the type of problems these panels are specifically designed to eliminate. So the choice is yours.
If you would like the panels around the room to be different to those of the shower area then that is not a problem. Quite often people will opt for a "feature wall". Here, you typically choose a dark or vivid design for one small area. You then opt for a lighter or more muted design around the rest of the room. The shower is one such location where the feature-wall principle works perfectly.
Are They Panels Difficult To Install?
Nope.
Shower panels are not difficult to install. Some are easier than others though…
The easiest by far is the bathroom cladding form of panelling. These are small and easy to manoeuvre. They are hollow so they are very easy to cut and don't require any specialist tools.
The next easiest would be large PVC shower panels. You might need to brush up on your installation skills to ensure you get a good fit with panels this large. Learning to scribe panels is a bonus and will help no end in producing a neat finish. We have an article on this here.
Laminate panels require the same techniques as the PVC panels mentioned above. But cutting is a bit harder because the panels are not hollow. You will need a jigsaw or circular saw to cut them effectively. You could use a handsaw but you will get very tired!
But once cut these panels fly up. So if cost is one of your considerations it's worth noting that labour times will be drastically reduced when you fit panels instead of tiles.
What  Do You Fit Them To?
To be honest, it doesn't really matter what goes behind shower panels. If you fit the panels correctly and seal them properly then no water should ever get past them. The most important part of the installation is the sealing.
The big issue is movement when it comes to creating a perfect, long-term seal. Seals can quickly deteriorate if the shower tray or bath moves.
We have an article on how to seal a bath or shower tray permanently here. Have a read through this before you start because this is the most critical part of any shower installation.