These before and after photos really illustrate the total transformation that can be achieved using bathroom cladding. The client undertook a complete bathroom makeover changing the flooring, ceiling, walls, radiator as well as installing a new bathroom suite.
Bathroom cladding makes life much easier because it is a quicker and cleaner method of changing the decoration in your bathroom. Tiling is a much more involved process and will require extensive preparation. Hacking off, removing removing old adhesive, skimming or plastering all made redundant. And all of these steps are messy as well time consuming. With bathroom cladding you just jump straight in and get it done.
Before And After
The old bath had a shelf at the end. This always causes problems and is something we would never recommend. It makes the bath less solid and the tiles used to cover it will be prone to cracking. The grout will also crack unless the whole area is made from blocks rather than timber.
It is good to see that they have done away with this shelf area with the new bath. Although cladding is the ideal bathroom wall covering we would still not recommend using it as a shelf in this location.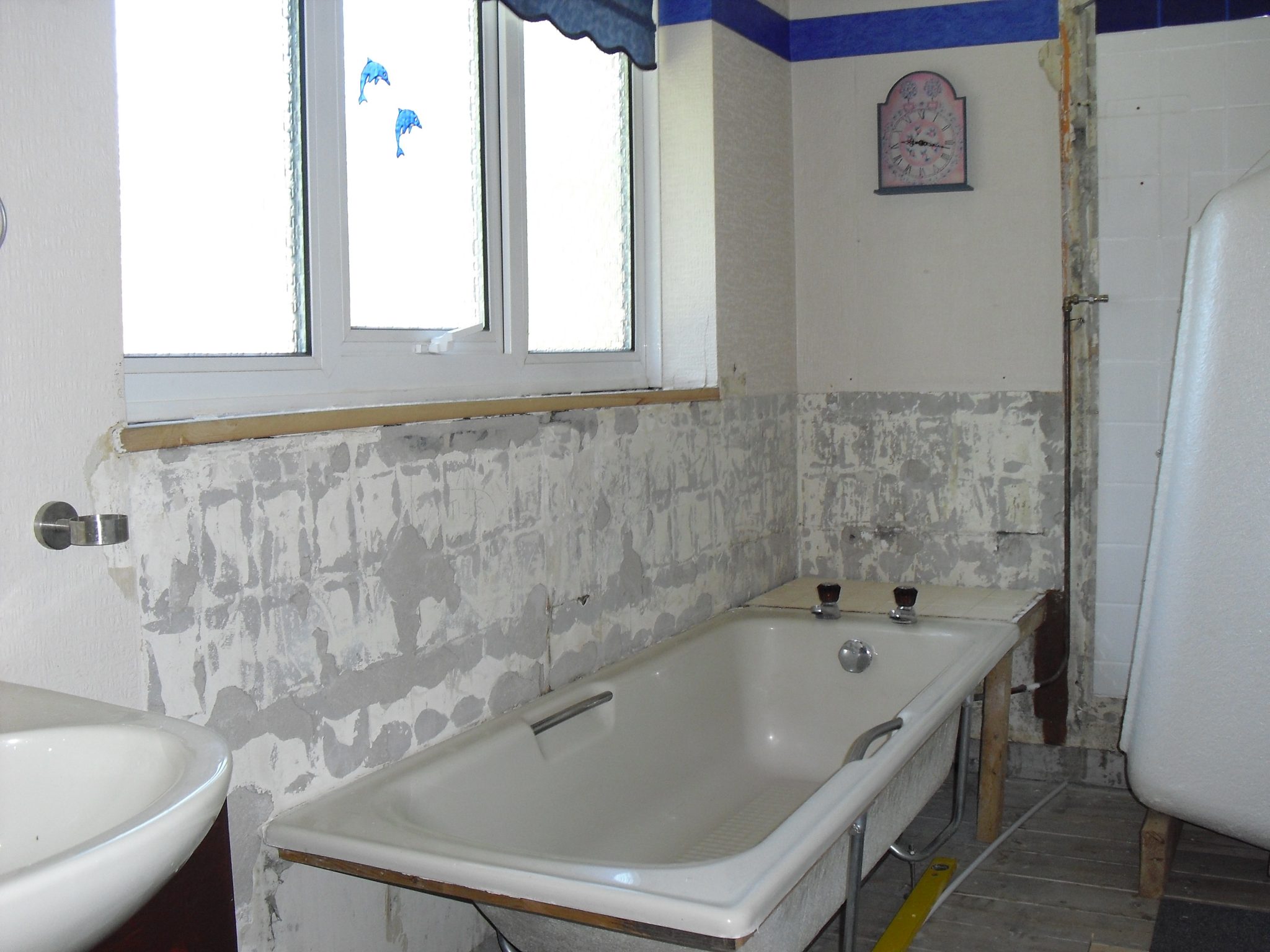 Full Makeover
Absolutely everything was changed in this bathroom – a full makeover. So the bath, basin and toilet were swapped as well as the decoration. Even the ceiling was given the full treatment.
It really helps that bathroom cladding is so quick to install. A complete refurbishment can take time and put your bathroom out of action for a week or so which is far from ideal. Cladding needs no preparation (as seen in the photo) and also goes up much faster than tiles.
Sometimes it is best to just go for it as it is much less disruptive to get everything done at once – even though it can be a pain while the work is underway. Bathroom products tend to have a very long service life so you should not have to repeat the exercise for many years.
A full makeover also allows you to deal with any alterations that might be needed if things are moved around slightly. In this example, the bath was moved up against the end wall where previously there had been a horizontal tiled area at the end of the bath. This is something that always causes problems in the long run so it is no wonder they decided to remove it when they undertook the makeover.
A Change Of Bathroom Flooring
There are quick-to-fit flooring products available too that work on a similar basis to bathroom cladding. They are made from PVC and slot together to help speed up the installation process. There does need to be a degree of preparation for this type of flooring so you need to make sure the floor is flat and level. But once that is done the floor panels simply click together and require no adhesive. This method of installation is called a floating floor.
As well as this PVC-based system there are several options when it comes to bathroom flooring. And plenty of pros and cons. Our article on flooring lists them all to enable you to make an informed choice.
Bathroom Ceiling Replaced
Rather than stick with their existing ceiling the customer installed a new one. Using ceiling panels meant that long term there would be no maintenance issues. The panels offer a smooth, wipe over surface. There is no paint to flake off and they will never develop mould spots.
The panels were attached directly to the joists saving time (and money). When fixing to wood like this you can use a staple gun which is another fast process. You do not have to wait for adhesive to dry and can work your way across the ceiling in no time.
By fixing to the joists it also meant that recessed lighting could be used as there was a gap behind the fittings. When undertaking this type of work always check the regulations as different light systems require varying amounts of space behind the fitting.
You also need to be aware that bathroom lights have to meet specific standards to ensure they operate safely in the moist conditions found in bathrooms. The room is divided into zones – those zones nearest to a shower require the light fitting meet a higher specification to make sure they are watertight.
Verdict
We think the owners did a fantastic job of transforming this room.
It was tired, dated and a bit cramped. But by moving the shower over the bath and smartening everything up they created a modern, maintenance-free design.