No matter how careful you look after your bathroom eventually it will start to look tired. Tastes change, décor starts showing signs of wear-and-tear and a point gets reached when an update is needed. This article will show you how easy it is to undertake a bathroom makeover using cladding.
Just Changing The Décor
The way you decorate the walls of your bathroom will have the biggest visual impact. The walls represent the greatest surface area. So updating the wall covering would seem like the obvious way to give a tired bathroom a lift. And the easiest wall covering of all is bathroom cladding.
The good news is that the bath or shower can stay in place. You could also clad around your basin and toilet but realistically it is easier to remove these items and clad behind them. The curved edges make for tricky cutting and it is not easy to get a neat finish. But if the basin and toilet are inside built-in bathroom furniture then they can be left alone as the straight edges of the units will make fitting easy.
Full Bathroom Refurbishment
If you think the suite needs replacing then you need to bite the bullet and go for a complete refurbishment.
Choose your new bathroom suite carefully and ensure it is suitable for the style and size of your home. Very large baths need a beefy heating system to ensure you have sufficient hot water. They also take up a lot of floor space which might not work well in a smaller room. Power showers also need careful planning. If in doubt contact and expert.
A new suite will not always have the same footprint as the old one so it is best to think about replacing the flooring at the same time. There will be gaps and visible damage that the new suite might not be able to hide. There are easy to install flooring panels that work on the same principle as bathroom cladding. They just slot together. This type of bathroom flooring is made from PVC so the panels are impervious to water and will not warp or split.
You might also want to consider redecorating the ceiling at the same time. Ceiling cladding is yet another easy to fit product that will give years of trouble-free service.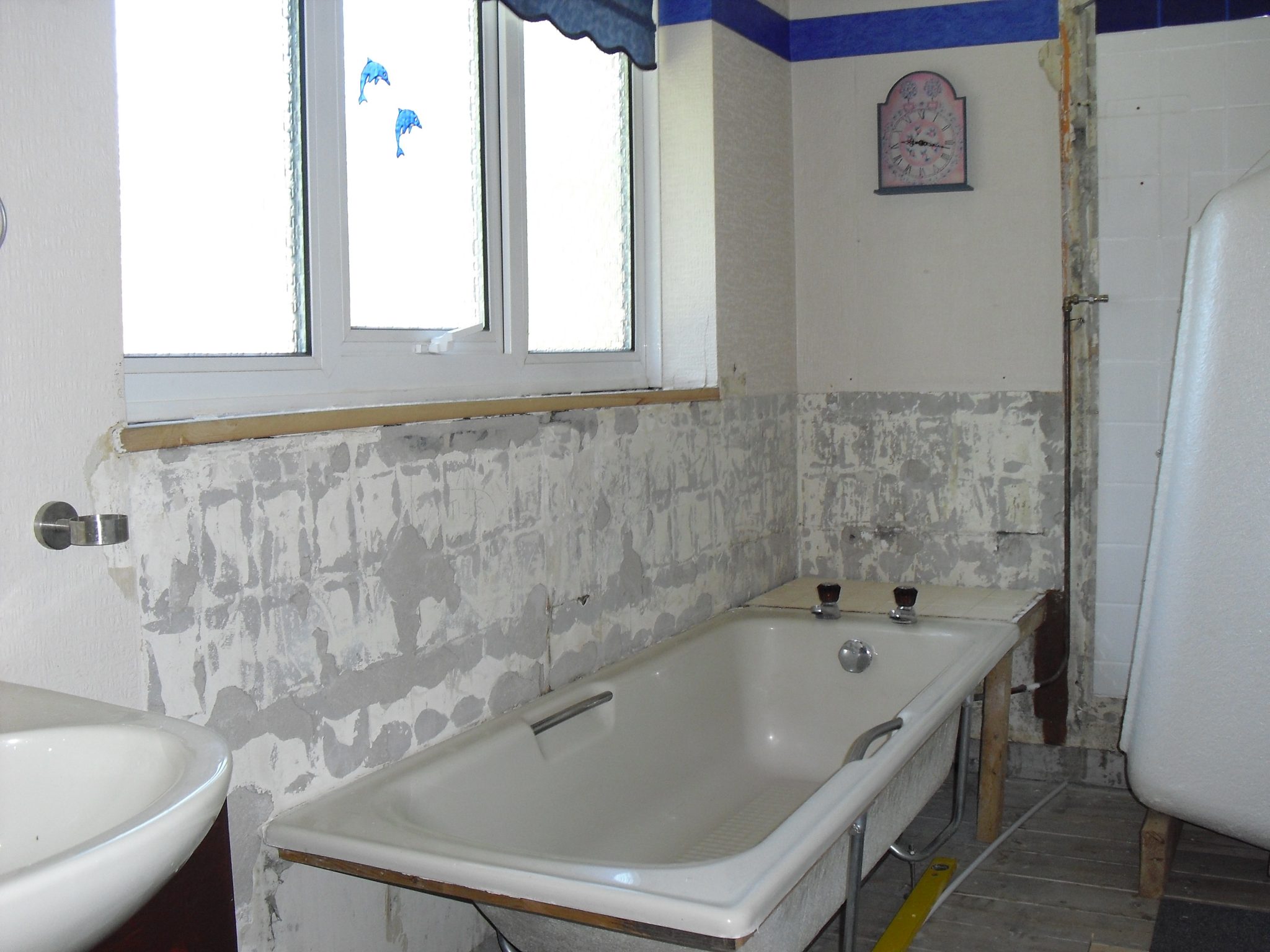 In Which order Should I Fit The Components?
After you have ripped everything out you will be ready to start your refurbishment.
Usually the installation order would be:
Ceiling
Bath or shower tray
Flooring
Wall Cladding
Toilet, shower enclosure, basin
Never fit cladding (or tiles for that matter) behind a bath or shower tray. They are decorative not structural. Try and work it so that the toilet is the last item you remove and the one of the first items you replace once the walls are in place. You can live without a basin for a few days but a toilet will be missed.
One of the great advantages of bathroom cladding is speed of installation. Whereas tiles might need skimming, plastering, fitting, grouting and polishing, cladding can go straight up and be used almost immediately. Once the silicone sealant is dry they are ready to use.
Major Redesign
You might want to take the opportunity to move things around to make better use of your space. You might want to take out a bath completely and replace it will a large walk-in shower. Bathroom cladding will deal with both these scenarios with no fuss.
If you are moving items around as part of your refurbishment then they will cover gaps, holes and missing tiles with ease. If there are large holes or missing structures then these can be patched very roughly just to lend some support to the finished panels.
Knocking down or adding wall is a much easier step to contemplate with cladding.
One popular adaptation is to knock a separate toilet and bathroom into one. We would only really recommend this action if you have a separate second toilet elsewhere in the house. Obviously any structural work like this needs to be done by a professional. But the making good once it is underway is so much easier when cladding is used.  No need to re-plaster the ceiling – just go over the lot with ceiling panels.
Likewise the damage that inevitably will result from taking down a wall. And the same goes for any lintels that need to be installed simply box them in use cladding.
Conclusion
We hope you can see how adaptable and easy it is to undertake a bathroom makeover using cladding. And when you consider it is usually cheaper as well it is a no-brainer.
There are design that look like tiles for those who want a more traditional look. And you can be sure that your finished job will still look good in years to come – with no maintenance.