Since its arrival on the UK market bathroom cladding has grown and grown in popularity. It is not difficult to see why. Its main competition is ceramic tiles. These have been used for thousands of years and for thousands of years they have had the same problems.
Cladding is a modern technology that has many advantages over tiles and is the perfect wall covering for your bathroom.
Cladding Lets You Create Your Dream Bathroom – Easily
The range of bathroom cladding designs has grown rapidly in the last few years with the arrival of digital printing.
Previously, panels were printed using a roller to apply the pattern. Although there were tile effect panels available they tended to use staggered grout lines as the technology was not accurate enough to allow a constant horizontal grout line around the room.
The new technology allows for some very attractive designs including mosaic effect panels. These can be used around the whole room or can be used as a feature wall – a very common use for mosaic panels.
The marble effect panels that were the only available designs initially are still available and are still as popular as ever. But the new designs seem to have caught the public's attention and are now flying off the shelves.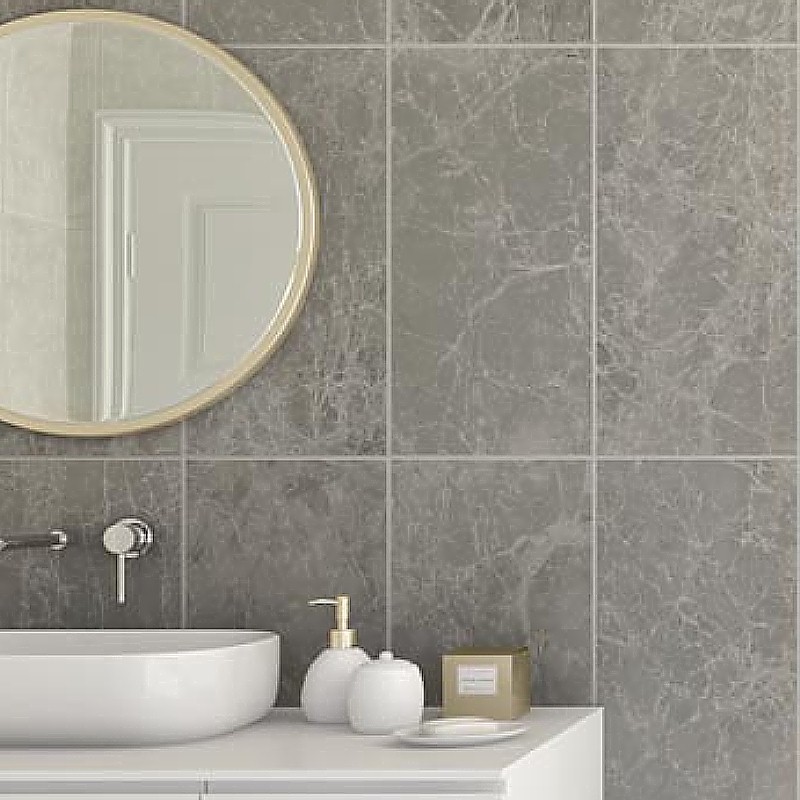 There is a wide range of designs available:
marble effects
stone effects
slate effects
wood grain effects
sparkle effects
tile effects
mosaic effects
And of course plain white is always popular – although this tends to get used for bathroom ceilings more than it does on walls (again ceiling panels have a number of advantages over traditional ceiling coverings – find out more here).
TO VIEW THE DIFFERENT CLADDING DESIGNS
It Is Totally Recyclable
This is a major advantage and one that is growing in importance all the time as people become more and more concerned with environmental issues.
Plastic pollution is a major issue as it does not degrade readily. But when used in building products this is a major advantage rather than a disadvantage. Instead of having to replace items after a short period of time they continue to do the job for years and years. There are no maintenance products required to keep it in A1 condition. Other products require maintenance that involves strong chemicals. These can have an even more detrimental effect over the lifetime of the product than the makeup of the product itself.
Not only can cladding be recycled after it is has come to the end of its use it can even be re-used.
There are several ways of fixing the panels to enable them to be removed in the future – see the following article for more information here.
Preparation – What's That?
Quite simply cladding rarely needs any preparation.
Tiles need a very flat surface to be stuck to or the grout lines will run out and make any bulges or hollows very apparent. The smaller the tiles the worse this problem is.
Bathroom cladding is made from large panels so consequently they will ride over irregularities with no problem. There are several methods that can be employed to ensure the cladding flies up but none of them are time consuming or expensive.
For a new bathroom with block walls the room would need to be skimmed, plastered and then tiled. All slow, messy and expensive processes. And not something most DIYers would be capable of.
Cladding can go straight onto the block-work. Saving time, materials, money and hassle.
If your bathroom is an existing one then cladding works perfectly in this situation as well. It can be installed straight over your existing tiles. So nothing to hack off, nothing to plaster. And something most DIYers would enjoy fitting as it is so easy.
To see more about installing cladding click here
Ongoing Maintenance
Once you have installed your bathroom cladding there isn't really anything else you need to do. You do not need to use bleach to keep it clean. There is no scrubbing, no painting, no grouting. You simply wipe it over with a soft damp cloth and get on with doing something more useful.
This makes bathroom cladding very easy to live with and also reduces the amount of strong chemicals needed to keep your bathroom looking fresh.
People who have switched to cladding never switch back as they just do not want the hassle of trying to keep grout clean. And it doesn't seem to matter what you cleaning regime is – grout will end up looking grubby.
There are several reasons why this is the case and most of them come down to badly applied grout or badly specified grout. If the grout used is not waterproof AND flexible it will fail.
We have an article with more information on this on our blog here.